Course Description: 
Organizations that engage and leverage their employee's strengths have increased profit, lower turnover, and much higher levels of employee wellbeing. Sounds great, doesn't it?  But what does "leveraging our team's strengths" really mean? What's it look like in practice? And how can you make this an ongoing part of your culture? In this course, you will learn how to implement a strengths-based approach with your employees, as well as why it matters. Want to have more effective performance reviews, team project outcomes, and an enhanced sense of employee connection to your organization? Leveraging your employee's strengths is a key factor in improving ALL of those (and more!); participants who complete this course will obtain actionable strategies for leveraging strengths to improve performance at the individual, team, and organizational levels.  For anyone who wants to improve their organization and their leadership by learning how to identify, engage, and leverage their employee's strengths RIGHT NOW, this course is for you!
This course consists of 6 in-depth video lessons for you to watch and learn at your pace: Finish in 1 day, 1 weekend, 1 week, 1 month – whatever timeline works for YOU! The course includes practical, research-backed strategies you can implement NOW, 6 worksheets, assessments, and resources — all of which you can access for 6 months after purchasing.
Meet the Facilitator: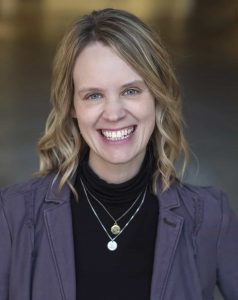 Carrie Collier has been working with individuals and teams to create positive change in their lives and organizations for over 15 years. She has extensive experience in managing and developing teams (including those working remotely), navigating challenging human resource scenarios, and facilitating difficult conversations.
Carrie is passionate about helping leaders understand the ability they have to influence the engagement and overall well-being of their employees. Employing practical, strengths-based approaches, she helps leaders bring out the best in themselves so they can bring out the best in their employees.