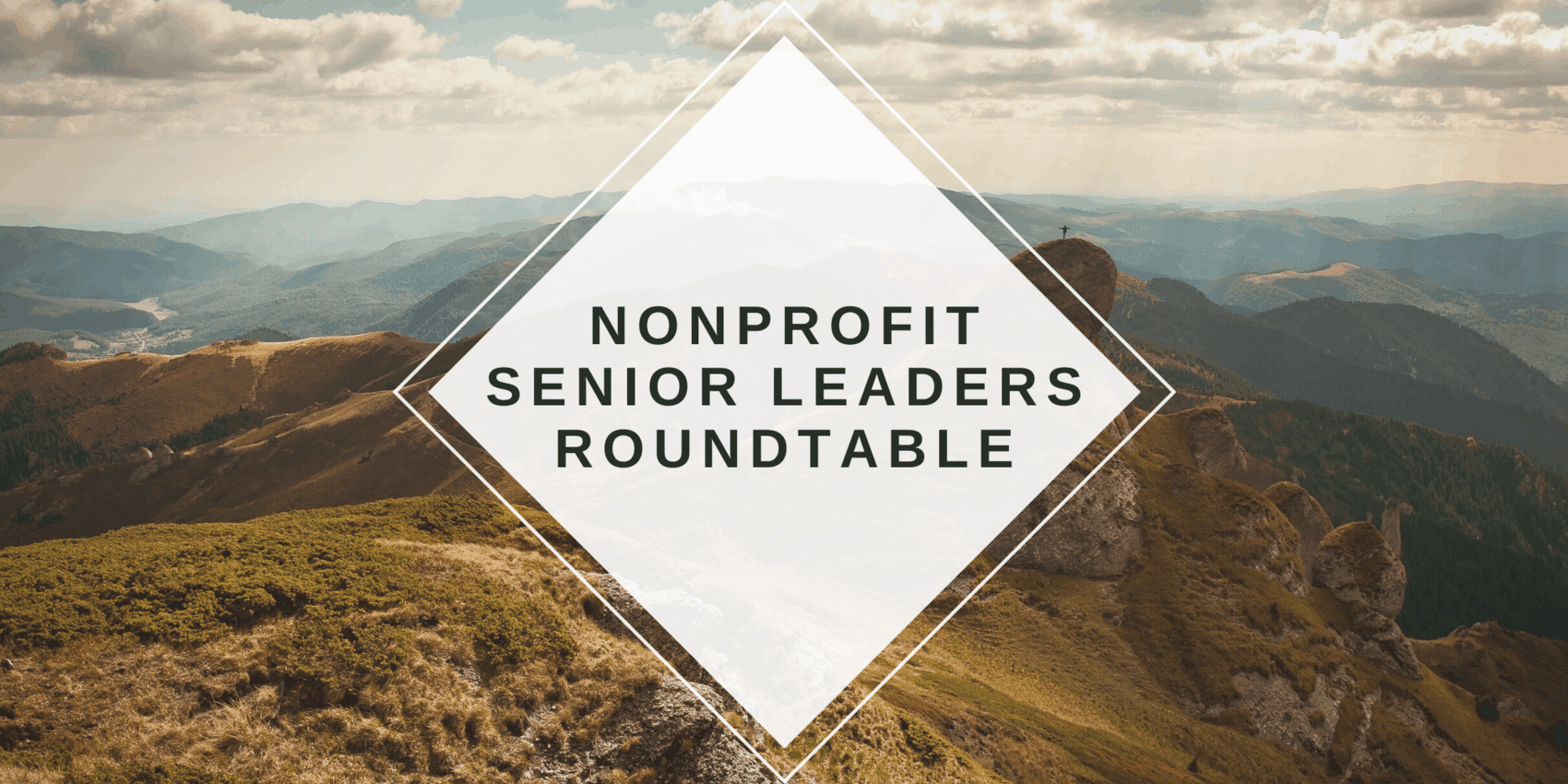 2021 Nonprofit Senior Leaders Roundtable
In our roundtables, a small group of nonprofit leaders comes together once a month to create a high-trust, collegial community to learn best practices, share successes and challenges, and lend support to each other to achieve their goals.
2021 is on the horizon, and we are gearing up for our 2021 Nonprofit Senior Leaders Roundtable which will begin in January! This roundtable will run over the course of 9 months and consist of a community of 10 nonprofit senior leaders, limited to one person per organization on a first-come, first-serve basis.
Why should I register?
To be part of supportive group of ten nonprofit employees who will meet via Zoom monthly for nine months and confidentially brainstorm, discuss organizational challenges, or new opportunities

To learn curriculum that is driven by YOUR needs

To increase and share your knowledge of best practices
To develop your skills and improve your performance
To enhance your ability and confidence in exercising leadership
To identify new ways to motivate others
To be stretched and challenged
To increase your ability to provide peer-to-peer coaching
When is it?
The first meeting is January 21st from 8:30-11:30 a.m. via Zoom
Once the group is established, members of the group and facilitator will agree upon the day for each subsequent month's Roundtable.
The Roundtable continues for three (3) hours, once a month for nine (9) months.
How much is it?
The early bird registration fee is $495 through December 3rd. After that, it is $550 until registration closes on December 22nd.
An opportunity for a partial scholarship of up to $100 per person will be provided.
Registration includes: nine monthly sessions with professional group facilitation, resources, and meeting materials.
Does this sound like an opportunity for you or a member of your team?
DON'T JUST TAKE OUR WORD FOR IT
Here's what others had to say about our Roundtables.
"This was an incredibly valuable experience and I'm so glad I participated in it."
"I feel more validated as a leader and have been able to shake the "imposter syndrome" I was dealing with since taking the job. I learned that I am more than capable to lead an organization and need to step fully into that role."
"The Nonprofit Senior Leaders Roundtable was vital to my development and growth as a leader. Truly an invaluable experience that I would recommend to anyone looking for growth and community."